Dalesford Speaker Book
Welcome to the Dalesford Speaker Book by R F C Stephens.
This is a small book published in 1977 of designs using Dalesford units and has been out of print for many years.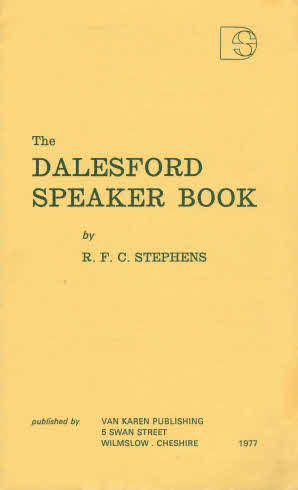 It is printed on yellow paper using green ink. The pages ( many of which are folded in the original) have been scanned in full colour, but if you wish to save on printing costs, we recommend setting your printer to print in black and white only.
For ease of download, the book has been divided into an Introduction and 8 systems (System 7 is in 2 parts). You can download each section by clicking on it.
Falcon Acoustics gratefully acknowledges with thanks the contribution of Andrew "Proff" Goloskof, who very kindly scanned all the pages over several evenings and without whose hard work this section of the Falcon Archive would not have been possible.