TDL & IMF Drive Units ELAC Datasheet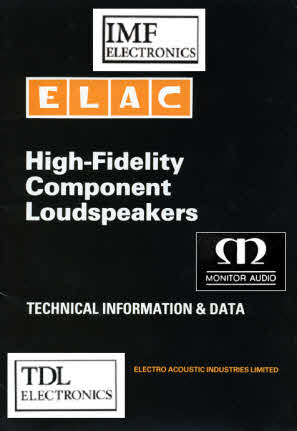 ELAC DATASHEET FOR IMF, TDL &(some ) MONITOR AUDIO Drive Units (UPDATED NOVEMBER 2011)

All IMF (with the exception of the Audax/IMF TW1500F), early TDL drive units, and also some Monitor Audio drive units were manufactured by ELAC in the UK in Tottenham London and Bridgend Wales. ELAC made a wide range of drive units, over 3,000,000 a year, both for the OEM hifi industry and also for car audio. These were invariably rebadged by the speaker manufacturer. Data on the various ELAC models has always been very hard to obtain, and the Datasheet available by clicking on the catalogue cover above is collated from ELAC datasheets and printouts, various sources including Monitor Audio but mainly from a fairly extensive file in the Falcon records. TDL was originally set up as a joint venture between IMF and ELAC to manufacture specific drive units. Following the demise of IMF, TDL became part of ELAC. The ELAC premises were bought by the Harman Group in 1989, at the same time TDL drivers were sold on to a management buyout team led by John Wright, who went on to develop the legendary early TDL speaker range.
The datasheet is "Work in Progress", we've tried to get it as accurate as possible, and we have not been able to record all models. If you have additional information we would welcome it, and we hope this is a useful resource for more accurate repairs and replacement driver matching.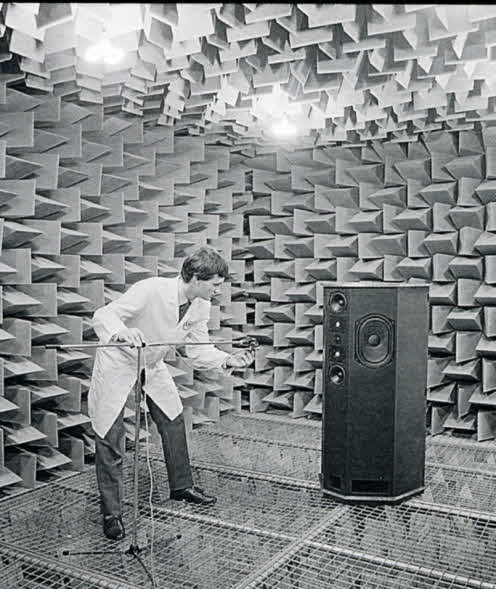 INTRODUCTION TO THE ELAC CATALOGUE ( CIRCA. 1987)
Founded in 1946, ELAC is today the major British specialist manufacture of original equipment loudspeaker drive units supplying the international automotive, high fidelity, telecommunications, public address and general electronics industries.
With more than four hundred employees and with factories in London and South Wales, ELAC produces in excess of three million drive units annually and provides its customers with an unrivalled service in the design and development of customised products meeting many different performance requirements and applications.
ELAC products are built to the highest levels of quality, each loudspeaker being individually tested for acoustical and mechanical precision before release from the factory, and sophisticated quality control techniques are used to monitor each stage of assembly.
ELAC does not offer a standard range as such. Almost all types are totally bespoke, and it is difficult to fully represent the Company's product capability in published form.
However, since one of the more important considerations in selection of a loudspeaker drive unit is physical size, this short-form catalogue gives dimensional details of the basic range of chassis and magnet systems in regular production.
Special chassis requirements and associated mounting arrangements such as brackets, make-up baffles and grilles can be designed as required although' it is usual for tooling costs to be borne by the customer.
Intentionally, electrical and acoustical data is not quoted as this will depend on the specific combination of magnet system and software selected.
For instance, power handling, both mean and peak, will depend on the diameter and thermal dissipation of the voice coil and on the type of diaphragm, surround and suspension specified. Similarly, frequency response, efficiency and fundamental resonance will be determined by the type of diaphragm, surround and suspension used.
For any particular size of chassis, a wide variety of magnet systems and software components is available and during the development of any new drive unit, ELAC engineers will carefully balance the characteristics of each component to achieve an overall performance accurately matched to the customer application.
Samples will be prepared for customer evaluation and will be accompanied at the time of submission by full performance criteria including frequency response curves. Normally no charge is made for samples.
Whatever your loudspeaker application, ELAC's expertise is available to assist you. Our sales and engineering teams will be pleased to prepare detailed proposals to meet your specific requirements, however demanding.
ELAC ASSEMBLY LINES AND FACTORY