The Falcon Story by Malcolm Jones
Falcon was founded in 1972 as Falcon Electronics by the first employee (1961) at KEF Electronics Ltd., Malcolm Jones. As Senior Development Engineer he was responsible for the design and development of the B139, B200, B110, T15, T27 ranges and the systems in which they were incorporated. He left KEF in 1974 having just completed the Reference Series 104 system and work on an active professional monitor, LS5/1AC, to work full time at Falcon Acoustics Ltd.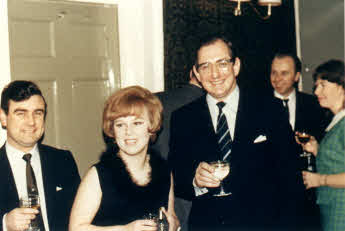 Left - Right
Malcolm Jones - Raymond Cooke's secretary - Raymond Cooke - John Whiffen (Production Man.) - J.W's. wife. About 1970
Malcolm writes: Although initially formed to supply the retail DIY market and supply a range of components, including most items needed for building a speaker system, the main advance was the production of Self-bonded Ferrite cored inductors, to customers requirements. This method had been suggested to KEF, who apart from a few in the first year, had always outsourced their inductors. They did not want to know! This and a comprehensive range of capacitors made it possible for the first time for designers outside the main companies to design systems using units from differing manufacturers. This led to a spate of Hi-Fi Magazine speaker designs in the 70's as there was no longer a need to use proprietary networks or a very limited range of proprietary inductors. Any desired value of inductor could be wound.
One of the most popular systems to be designed by Falcon was the Tabor, this system was supplied as a kit in many countries and made as commercial systems by 3 companies - with minor modifications. Many thousand were supplied over the years.
Falcon took over Nightingale Acoustics in 1978 and whilst keeping production of the NM1 for a while, brought out a new range:- NM3, NM pt.5, Lyric and Enigma. These went on to be produced as Mk II models.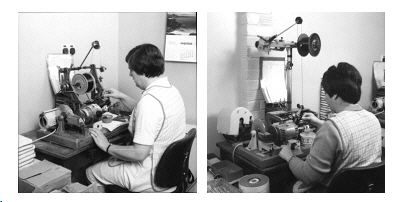 Winding inductors - Falcon Acoustics in the 1980's
Over the years the inductor manufacturing plus the distribution of capacitors and loudspeaker units became the main part of Falcon. During the 80s and 90s Falcon wind inductors in the 100's of thousands per year and ship between 0.5 to 1 Tonne overseas most months. Many of Europe's well known (and some not so well known) speaker systems used Falcon Inductors. At one time over 2/3rds of the UK manufacturers used Falcon inductors, many taking custom built crossover networks.
In the early 80's Falcon took on the distribution of the Focal range of units, which became a two-way trade as Focal used Falcon ferrite inductors in their kits and systems (JMlab) We supplied tens of thousand of our SSP inductors of which Focal thought very highly.
Falcon applied in January 1982 for a licence to manufacture the LS5/3A, (we had our subsidiary speaker company named Nightingale Acoustics Ltd) but we lost out to Goodmans. In the end Goodmans manufactured very few systems. We supplied the crossovers!
A comment from the BBC Designs Department on validating the sample systems supplied by Goodmans, using our manufactured crossovers, was:

"All capacitors bridged and found to be very close tolerance. It was noted that these components were probably individually selected, so the crossovers were therefore not typical."
We were a little upset as this was a standard crossover. All we had done, as with all our polyester capacitors, was to select them all out into 5% batches. Many of the values were made up with 2 capacitors in parallel - 3.7uF = 1.5 + 2.2uF - so we put a 0-5% and a 0+5% in parallel to give a canceling tolerance variation. Other values such as the 5.03uF were specified as 4.7 + 0.33uf. We used a 4.7uF selected from the +5% to +10% band. This gave a very close value. 4.7uF + 5% = 4.935uf, less than 2% low. 4.7uF +10% =5.17uF, less than 2.8% high. These were outside tolerances. Due to the gaussian distribution of the 4.7uF there were far fewer values at +10% tolerance than at +5%.

The DIY retail/mail-order side supplied almost everything needed to build a range of high quality loudspeaker systems and the phrase 'Everything but the Wood' has been used to describe the range.
Falcon was run as a small family business with Valerie and Malcolm Jones as directors. It moved from Bexhill in Sussex to Mulbarton in 1976, although the retail shop was still kept going till Wilf Harms our manager there, retired in 1980. Two of our 'girls' were with us for 25+ years, and another four employees for over 10 years.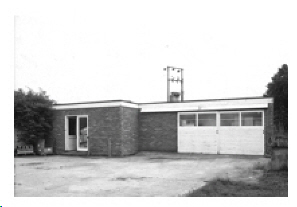 Falcon Acoustics - Mulbarton 1976
We moved premises in April/May 2003 to Acle. A small town on the A47, about halfway between Norwich and Gt. Yarmouth. This was our first move since 1976.
Due to retirement and some staff not moving to Acle we lost 3 of our long established 'girls', Rosemary whom many will have spoken to on the office/ordering phone over the last 18 years retired early February 2005 and I am sure we all missed her dulcet tones and wicked sense of humour! Rosemary unfortunately was diagnosed with cancer shortly after retiring and died in July 2006.
I would like to thank all the 'girls' and a few 'boys' who worked for Falcon over the years for all their hard work and dedication in keeping the Falcon ethic of good, high quality range of products.
In late 2006 we both retired, and we continued as Falcon Acoustics Ltd for a while until Valerie became very ill and died on 1st June 2008. After trading as Falcon Acoustics for some time I fully retired and sold the business to Jerry Bloomfield near Oxford, who has decades of knowledge, particularly in the IMF range of speakers. I have been asked to continue my association with Falcon as technical consultant which I have happily agreed to.
I now intend to spend my time with my son with his racing in RGB car racing, my granddaughters, playing trumpet in 2 Big Swing Bands and doing P.A. and Recording for local organisations. I may even find time to 'help" Jerry !!
Malcolm Jones - January 2010